Five Tips to prepare you business for Spring Wind and Hail Storms.
In most of the United States, Spring brings about an elevated risk of property damage related to weather events. At the top of the list of weather related insurance claims is Wind and Hail Damage. The damage may be caused to a businesses equipment as well as property. If you own a business that has extensive property and equipment, especially if it is stored outside and you live in a high risk area, you need to prepare your business for Spring Weather. Here are five things to look out for as you prepare your business for the Spring weather season.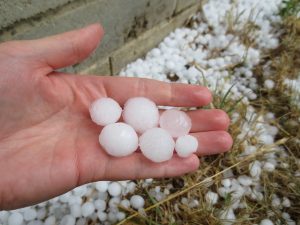 Analyze What Weather Risks Your Business Faces
It is important to first determine what risks you face and the likelihood of an event occurring. If you live in Kansas, it is obviously more important to prepare for Tornadoes as opposed to Hurricanes or Earthquakes. Having a discussion with the key employees within your organization can help you determine what risks you, what risks you do not face, and what level of risk exists for each liability. Partnering with an independent insurance agent is a good way to find out about risks you may not realize you face and how to best protect your business from the risks that do exist.
Inspect The Property
Prior to the Spring Season, in preparation for wind and hail damage, it is important to do a thorough inspection of the entire property. Have someone who is trained examine the roof, the gutters, the HVAC System, and any specialized parts of your property. If there are trees on your property, make sure they are properly trimmed to avoid damage to the facility.
Secure All Equipment
Especially if you live in an area that is prone to wind and hail damage, it is important to secure a designated spot for all equipment and other valuables at the beginning of the Spring Season. Equipment stored outdoors should fastened securely to prevent it being lost or stolen after a storm.
First Keep Your Employees Safe
When a storm hits, it is the right thing to do to take care of your employees. Keeping an eye on the weather forecast will help you determine if employees who work outside need to be taken off the job. Keep employees away from windows and if necessary, take shelter in the safest portion of your facility. Put an emergency plan in place ahead of time and practice it from time to time.
Don't Forget Insurance
Severe weather can hit anywhere, especially in the Spring Months. If you live in an area that is likely to experience wind and hail damage, it is important to speak with your independent insurance agent about what is the best package of insurance for your business to secure. First and foremost, do not base your decision to buy insurance solely on price. Margins for insurance carriers are extremely tight. Credits and discounts are not substantial on insurance premium. If one carrier offers a policy that is noticeably lower in price than a number of other carriers, there is usually a reason for that lower price. The reason for a lower price on premium is rarely because the carrier offering the lower price is known for offering additional limits or providing exceptional customer service. Partnering with an independent insurance agent allows you to get unbiased recommendations about each carrier because the independent agent is not tied to only one carrier.