Ensuring Adequate Insurance Coverage for Your Snow Removal Business
The Snow Removal Businesses have a certain amount of risk associated with the nature of the business.  The risks are unique to both the health and safety of your employees, the maintenance of your equipment, as well as the risks the business faces towards outside third parties.  Because of those unique risks, it is especially important for snow removal business owners to speak long and honestly with their insurance agent about the activities the business does and does not partake in on a daily basis.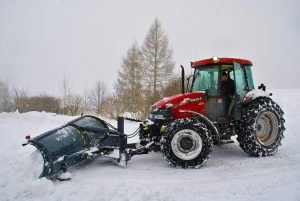 Here are four insurance policies that are essential to protect your business if you are working in the snow removal industry
1. General Liability
General liability Insurance is a type of coverage that will protect your business from the liability it faces to third parties you and your employees come in contact with. It will cover both bodily injury and property damage that occurs because of the actions of your organization.
2. Workers' Compensation
Depending upon which state you operate in, the classification your business is place in and the number of employees you have; a snow removal business is more than likely required by law to carry workers' compensation coverage.  A workers comp policy is commonly referred to as the 'Exclusive Remedy' because it covers your employees for injuries that occur on the job while giving the business owner the confidence to know they cannot be sued for injuries that occur as a part of normal business operations.  Because of the nature of the work in the snow removal business, employee s are exposed to extremely cold temperatures every time they are working for the business.  For this reason, it is important to secure work comp coverage regardless of whether it is required in your state or not.  It can be the 'exclusive remedy' that can protect business while providing proper care for your injured employees.
3. Commercial Auto / Hired and Non-Owned Auto
Commercial Auto Insurance is needed for businesses who own vehicles to operate the snow removal process for the business. If your business uses leased vehicles or you have contractors and employees who use their own vehicles, you will need to obtain a separate policy called Hired and Non-Owned Auto Insurance.  Hired and non-owned auto coverage will cover the liability your business faces to the damage of other vehicles or the property of third parties.  The damage that is caused to your employee's personal vehicle will be covered by your employee's personal auto policy.
4. Inland Marine
A Commercial Auto Policy will cover the vehicle your employee is operating, but it will not cover the trailer or any equipment being transported on the trailer. Inland Marine Coverage will protect all of your specialized equipment while it is in transit on a trailer or in use off premise.  Taking some additional time to speak with your agent and to do an adequate inventory of your equipment can go a long way towards properly insuring all of your businesses equipment.