Workers Compensation Concerns for Masonry Businesses
Masonry is a tough industry. The work is physical and takes a unique set of skills to excel. For this reason it is hard to find reliable employees who can take on all of the demands working in this industry presents. With these demands comes an elevated amount of risk. These risks are especially high in relation to workplace safety and workers compensation claims. Here are two aspects masonry business owners should be concerned about and four policies in addition to workers comp all Masonry Businesses should consider.
Masonry Workplace Safety Concerns
Working in the masonry business is physical. Masons spend a lot of their time bent over and dealing with weight, and working with their hands. All brings unique risks that need to be prepared for by leadership of any business. Encouraging a healthy lifestyle is the first step to keeping your staff safe. Employees who are physically fit are less likely to injure themselves. Encouraging the use of adequate safety equipment is important. Back braces may be necessary for some employees, especially when they are recovering from an injury. Training new employees in the proper use of all tools is essential to limiting injuries.
Masonry Workers Compensation Concerns
Masonry businesses tend to have an elevated level of workers compensation claims and conversely businesses in this industry have higher rates for premium. There are some things a business owner can do to limit what the business pays for workers compensation coverage. First is to control the Experience Modification Rating. The Experience Modifier is the main aspect of a business that an underwriter uses to determine whether to offer coverage to a business and how much to charge for that coverage. There are recommended minimums that are required by each state, but depending upon the claims history, the revenue of the business, and the number of employees; the rate of premium for a business may be substantially higher.
The main thing a business can do to keep this rating low is to limit injured employees and limit the severity of the injuries you do have. If a business stays around long enough, eventually they are going to experience an injured employee. Focusing on workplace safety can help limit the number of injuries and result in less severe injuries. The focus on workplace safety must start at the top. If the leader of a business cares about safety and they communicate those concerns frequently, the message is more likely to stick with employees throughout the business.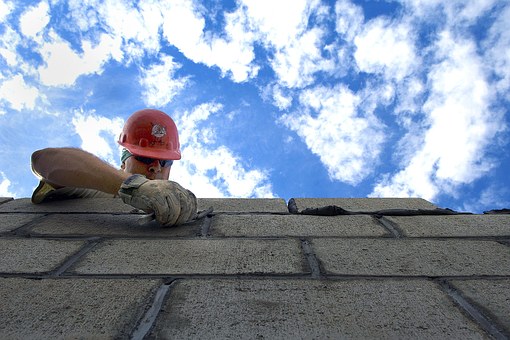 4 Additional Policies all Masonry Businesses should consider
General Liability Insurance
Inland Marine Coverage
Property Insurance
Hired and Non-Owned Auto (full commercial auto if vehicles owned)
General Liability Insurance
General Liability Insurance is the first line of defense. It is required by law for most businesses in most states and it is a requirement for most contracts a masonry business enters in to. It covers the liability the business faces to outside third parties, not employees. It is important to remember it is not all-encompassing. Even though it is the bare bones minimum required coverage, in most circumstances this coverage is not enough for most businesses.
Inland Marine Coverage
Inland Marine Insurance is designed for business that have specialized equipment that is frequently in transit. Because of the remote nature of the Masonry Industry, most equipment is either transported to or stored at a third party location. Inland Marine Insurance covers this specialized equipment while it is off property.
Commercial Property Insurance
Commercial Property Insurance is different from home owners insurance. Commercial property can be purchased for a facility whether the business owns or rents the property. It covers damages to the structure of the building and most things attached to the walls, like cabinets and some desks. Each policy has it own specifics and conclusions, so it is important to understand what you are purchasing long before you have a claim.
Hired and Non-Owned Auto
Hired and Non-Owned Auto Insurance is designed for when a business has employees who operate leased vehicles or use their personal vehicles for business purposes. When an employee causes a wreck while on the job, the liability for damages to the other cars involved in the accident is the liability of the business (not the employee). The employees personal auto insurance policy will cover the damages to the individuals car, but not the liability to other people injured in the accident. A commercial auto policy will pay for property damage and bodily injury claims up to the limits of the policy.
Other coverages to consider for Masonry Construction:
Contractors' Equipment (Inland Marine Coverage), General Liability, Umbrella Liability, Automobile Liability and Physical Damage, Building, Business Income with Extra Expense, Builders Risk, Goods in Transit and Installation Floater.
Common NCCI Workers Compensation Class Codes:
5022: Mason Contractors and Masonry Construction
5222: Concrete Construction—Bridges and Culverts