What risks do Pest Control Companies face that relate to workers compensation insurance?
Pest control companies and fumigators are the type of small businesses that provide services to both commercial and residential customers. This presents risks that can be varied and diverse. The pest control agent or exterminator determines the type of pest a property faces and the most effective method of removal.  At the same time they must determining what will cause the least amount of disruption to the customer.  This disruption can come in the form of interrupting business operations or making the home life uncomfortable or inhabitable for a family.  All of these issues must be taken in to consideration by the business and these decisions leave the business at risk of liability to others as well as to their employees.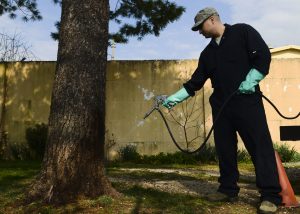 With the issues a pest control company faces on a daily basis comes an an amount of risk that is higher than the average business.  Workers compensation exposure can be high for the Pest Control industry. Common hazards include slips and falls during application; minor injuries while using hand tools; lifting injury and back injuries, hernia, sprain and strain.  Employees can experience lung, eye, or skin irritations due to the chemicals.  The impact of these chemicals can be immediate or long term.  In some Pest Control companies seasonal employees may make safety a challenge. Loss potential becomes severe if the contractor fails to train and supervise employees properly. This is especially important when it comes to the proper use of protective gear by the employees.
Common Workers Compensation Class Codes:
•   9014- Janitorial Services by Contractors– (Florida- Exterminators)
•   4828- Chemical Blending and Fumigation
•   9031- California Code- Pest Control- All Operations
•   0046- Massachusetts Code- Pesticide Application