Floor installation is an activity that brings many unique risks to a business that make it a tad more difficult to quote from an insurance perspective. The risks faced by a business in this industry are very different from the risks faced by a janitorial services company, an automobile service company, or even a trucking company. Floor laying, finishing and refinishing operations are a type of specialty carpentry that increases exposures involving the actual construction and lay out of floors in both residential or commercial buildings. This may include the installation of floor coverings such as linoleum, tile or carpeting. There may be certain types of chemicals your workers are exposed to that can increase the severity of a workers compensation claim.  For brand new structures, floor installation may include cutting and installing sub-flooring over a structural frame, installing hardwood flooring, and applying layers of paint and/or varnish. Each type of activity brings with it its own unique set of risks.  For this reason it is extremely important for a business owner in this industry to talk a little longer with their insurance agent about what exactly the employees of the business do and do not do on a daily basis.  The insurance agent is in the business of analyzing risk, so if they are absent the appropriate amount of information it is in their best interest to always assume more risk.  IF they assume more risk it can cause your business to be classified improperly which will cause your businesses premium to increase.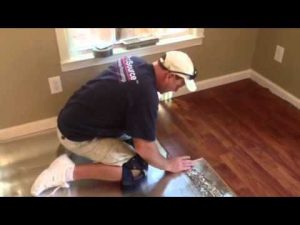 Unique Workers Compensation issues for Floor Installation Businesses
Workers compensation exposures vary based on the size and nature any job.  This is very much the case in the floor installation industry.  Replacing the carpet in one room of a 10 year old house is dramatically different than replacing the hardwood floors of a 5,000 square foot house that is 50 years and located in a humid area like the Florida Gulf Coast.  From an insurance agency perspective they have to assume you are doing both types of activities in order to protect the risk their own business takes.  If you are a one man team that only installs carpets in new houses than you may be in a classification code with less risk and consequently a lower rate in premium.  This type of mistake usually gets fixed during the end of term audit, but it can still tie up useful cash in paying too much premium throughout the year or it might cause a bit of a surprise if you have to pay the additional premium at the end of the term.
Here are several common Workers Compensation Class Codes:
•   5478- Carpet, Linoleum, Vinyl Installation
•   5438- Tile Floor Installation
•   5437- Hardwood Floor Installation and Refinishing
•   5645- Residential Construction
•   5651- Commercial Carpentry
•   5436- California- Hardwood Floor Installation