Cable television companies provide television programs to customers over both fiber optic and coaxial cables. They can be provided both digitally and via satellite, but someone must install the equipment that makes these technologies work. This is where companies spring up to provide this needed service for both cable providers and television viewers. Cable Installers are usually employed by cable service providers, but in some instances they are employed as sub-contracted labor. All sub-contract labor is generally required to have specific coverage limits per their agreement with the cable contractor. This is where their workers compensation coverage is a requirement in most states.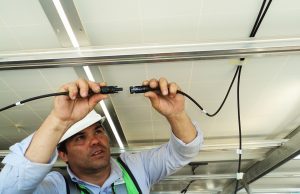 What are the concerns for cable installers relating to Workers Comp?
The first concern related to workers' compensation coverage is whether the installer is an employee for a cable provider or whether they are an independent contractor. If they are an employee of the company than the company is responsible for carrying the proper workers compensation coverage for them as an employee. Now if they are a contractor, depending upon the state the installer may need to purchase coverage for themselves and for their business if they have employees working for them. It is important to speak with an independent insurance agent and the proper governing body in the state in which you operate in to make sure you have the proper coverage.
What other insurance might a cable installer need?
General Liability
Inland Marine Coverage
Commercial Auto Insurance
Workers Compensation
In most states, workers compensation and general liability are required by law for most businesses. Again it is important to check with the state governing agency to determine what your business is required to carry. In most states this is the department of insurance. Two additional coverages that are beneficial to many cable installers are commercial auto and inland marine coverage. Commercial auto is needed regardless of whether you are driving your own personal car for work or a company owned car. If you do drive your personal car for work than you can get a policy called hired and non-owned auto policy. This will cover the liability the business faces that is not covered by your personal auto policy. An inland marine policy will cover any specialized equipment or tools that you have with you in transit. Because of the remote nature of this work, most of the time the installer is located at a third party site. During the time that the installer is driving from location to location they are at risk of damaging their vehicle and the tools located inside it or any additional equipment attached to a trailer. The problem is that a standard commercial auto policy will not cover additional equipment. It just covers the vehicle. For that reason you may need inland marine coverage. An independent insurance agent can help you determine if you need this coverage, and if so, how much you actually need.
Classification Codes for Cable Installers
Commercial insurance companies use various liability classification systems in order to classify and rate coverage premiums for Cable Installation. Here are the most common business insurance classifications for Cable Installers:
Business Liability Category: TV and Media Installation
SIC Business Insurance Codes:
4841: Cable and Other Pay TV Services
NAICS Liability Classifications:
517110: Wired Telecommunications Carriers
515210: Cable and Other Subscription Programming
Business ISO General Liability:
91315: Cable and Subscription TV Companies
Common Workers Compensation Class Codes:
7536: Cable Installation and Construction
8901: Cable and Telecommunications—Office Employees
7600: Cable TV or Satellite—Other Employees and Drivers
6325: Conduit Construction—for Cables or Wires
8742: Outside Sales Persons