Volatility in Workers Compensation Florida Rates 2019 Continues
This year the Workers Compensation Florida Rates 2019 are moving in a positive direction for small business owners. The Florida Insurance Commissioner, David Altmaier, has approved a revised workers compensation rate filing of 13.9 % decrease.  According to Altmaier, 'The rate increase amounts to approximately $454 million in savings for employers'. This is especially good news because the Florida Workers Compensation System has been in flux for the past few years.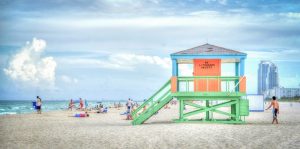 Why have the Workers Compensation Florida Rates 2019 Been in Flux?
This decrease comes after an increase for Workers Compensation Florida Rates 2018. There have been several years of instability within the workers compensation system in Florida. In 2017 there was an increase of 14.5%.  This increase was attributed to two state Supreme Court decisions that have put the system in flux. Those two cases were – Castellanos v. Next Door Company and Westphal v. City of St. Petersburg.
In the Castellanos Case an injured employee sued and the case was taken all the way to the state supreme court. The supreme court ruling was ruled invalid because it limited the ability of an injured worker to get reasonable amount in judgments for attorney's fees. Basically the ruling meant judges no longer had to stick to strict guidelines when ruling on workers compensation cases.
In the Westphal Case, there was a rule that was challenged that a 104-week statutory limitation on temporary total disability benefits is unconstitutional. The court ruled this portion of the law unconstitutional because it denied injured workers proper access to the courts. The Florida Supreme Court extended this period to a 260-week limitation. This 260-week limit is more in line with states throughout the country.
In Addition to these two court cases is State Senate Bill 1402.  SB1402 accounted for 1.8% of the recent increase in premium by increasing the cost for updates within the Florida Workers' Compensation HCPR Manual. On top of these three issues
in 2017 the Florida Insurance Regulators took over Guarantee Insurance Company (The states assigned risk workers comp provider) because it had become insolvent.  This left 1250 businesses in the state of Florida scrambling to find a workers comp carrier.
These two court cases caused the initial increase in workers comp premium throughout the state of Florida. Since this increase there have been three decreases every six months. Those decreases were in November of 2017 for 9.5%, in May of 2018 1.8%, and this 13.9% decrease set to go in to effect January of 2019. These decreases have contributed to the volatility of Workers Compensation Florida Rates.  For the time being, 2019 will be a year when small businesses will benefit from lower rates on workers comp premium for the time being.
Florida Workers Comp Rates 2019 are decreasing because of significant improvements in experienced losses by insurance carriers. This means the insurance carriers paid out less in claims. Some within the industry credit safer workplaces, enhanced efficiencies in the workplace, and an increase in the use of technologies for the decrease in costs.

The Future of Florida Commercial Insurance Rates
Not directly related to Workers Compensation Insurance Rates, but something that will have a lasting impact on the business community within the state of Florida is the response to Hurricane Michael. In 2018, Florida Governor Rick Scott issued an emergency order to make sure additional protections were put in place for Florida Policyholders. The most substantial aspect of this declaration was a 90 day freeze on any rate hikes.
In addition to the response to Hurricane Michael, the Florida Legislature is implementing an Independent Medical Review Program. This change will impact the Workers Compensation System.  The Legislature is looking in to implementing a 6-year-old independent medical review program for workers compensation claims. This program has previously been enacted in the state of California. IT has been rather successful in this state. This program disputes surrounding medical treatment of injured workers are resolved by physicians and not by the court system. In the state of California this enabled more efficient resolution of claims and reduced the lengthy judicial process.